[BLOG TAPES #2] – FREE MUSIC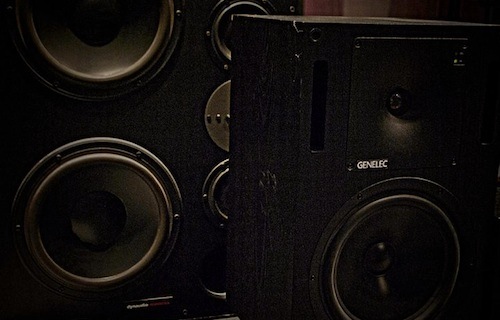 If you've been reading this blog for a while, you might remember the now defunct Monday Mixer, a weekly mixtape put together by a team of bloggers around a chosen theme. Well, the same team is now back together (with a few new members) to offer you a new series of mixes called Blog Tapes.
This week's theme is "Free Music" so we asked every blogger to send a song by a new up-and-coming artist they love, but the condition was that the song had to be available as a free download for everyone's enjoyment. Find the selection below or on 8tracks.
Selomé @ Dipped in Dollars

Saturday Monday - The Fall (Ft. Christopher Norman)
As we transition between seasons, with chilly nights followed by warm days, dark pop songs like Saturday, Monday's "The Fall" seem to make the most sense to me. We're not quite sure how to feel, or what to wear, but sounds like these help us indulge our emotions as we prepare for the light, bright rays of summer.
Cory @ Silence Nogood

I may be listening to the same old electro music that every teen is checking out these days, but this is the type that really gets me. When electro producers chop and skew their shit around soul, there's simply nothing better. Madeaux's "Song #2" was created for his girlfriend and, even though the title is lacking and it was created for the cliched lover, this piece drips electro soul like no other. Madeaux has a way of taking such soothing melodies and electro cutting 'em enough to bring in some new flavor. If this guy keeps making shit as soulful as this, he can expect a long time career in music… and I'll be right there promoting it to my heart's end!
Ben @ The Metropolitan Jolt

Midi Matilda - Day Dreams
Metrojolt gets quite a few submissions. Unfortunately, most aren't exciting enough to write about. Midi Matilda put together this dreamy track and video in Metrojolt's home of California's Bay area. Drummer Logan Grimé also directed the music video. Aside from uninspiring music submissions to our blog, music videos we receive are becoming increasingly stale in a world full of innovation. Maybe it's my nostalgia for the Bay Area talking, the video is a sweet take on a visual representation of the track. "Day Dreams", as made obvious by the name, is a dreamy track. Skyler Kilborn's voice melts over the rest of the track.
Marc @ umstrum

Two words for you: absolutely magic! Another word: free!!! Is there really anything else you need to know? Well ok, the band is called World Tour, they come from Sweden, their new EP is out now via Cascine and the title track is available for free right here.
Chris @ dailybeatz

Beat Culture - Slow Flight (Ft. Vyxor)
17 year old Sunik Kim aka Beat Culture is one of my favorite artists to appear this year. His beats are always creative and interesting and he seems to be pumping out high quality tunes at a pretty quick pace thus far. He's recently been adding in some new vocalists and vyxor is right up my alley, too. While this track has some subtle references to SBTRKT and James Blake, it's definitely something all his own.
Joseph @ Nashville Nights

Theophilus London - Last Name London (Brodinski Remix)
"Last Name London, First Name Theophilus," sounds a bit more intimidating when it's backed by brooding synth textures and a heavy techno beat. Like many of his other productions, Brodinski's remix for hip-hop artist Theophilus London channels the dark, dance-floor friendly vibes that have been defining his recent creations.
Brandon @ The Burning Ear

Cherub - Hold Me (Ft. Dominic Lalli)
I don't know many people who have ever critiqued Chromeo for being too ironic but it would be fair. If you prefer your midnight seduction music with a straight face then welcome Cherub to the bedroom. You will hear sensual rhythms, saxophone riffs, talk box come-ons, and guitar lines built for disrobing, but its all wrapped in a sincere love story. That touch of sentimentality doesn't mean you can't crank it the funk up, though. My car speakers have been put to the test with this one blasting through the system. I highly recommend it. Just don't hold me responsible if you end up steaming the car windows later… I had never heard of Cherub until they played two sets at The Burning Ear SXSW showcases this year and damn if they don't bring that absolute heat live. Pair them with a fog machine and it's a panty-raining dance party.