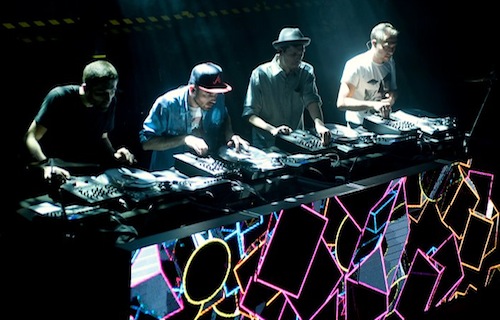 C2C is a French turntable act helmed by 20Syl, Greem, Atom and Pfel. Active since 1998, the combo is part of an emerging movement called "scratch music" (or turntablism), where each member uses his turntable as an instrument, recreating in turn drums or bass, scratching a riff of guitar or adding some sax…
After winning the Disco Mix Club championship four times in a row from 2003 to 2006, C2C decided to expand into original music production. What you will hear below is the title track from their five-track EP Down The Road, released last January.
C2C may not be a household name yet but their unique mix of hip hop, jazz and electronica has enough oomph to woo electro music enthusiasts the world over. Check out their tribute to Louis Armstrong, a fully scratched up rendition of "Mack the Knife".
C2C - Mack The Knife (Tribute To Louis Armstrong)
For more music, info and tour dates (France, Belgium and Switzerland in the next few months), find C2C on MySpace or Facebook. Buy the music on