REVOLVER – MUSIC FOR A WHILE (Folk/Indie – France)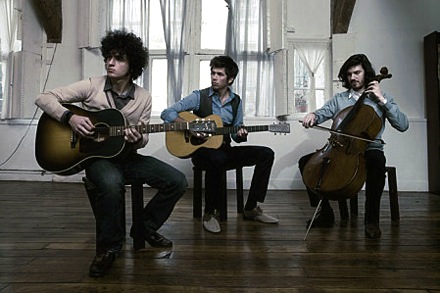 Christophe Musset, Ambroise Willaume and Jérémie Arcache are Revolver. Their unusual blend of pop music is built around two guitars, a cello and, last but not least, voice! The three parisian youngsters mention Elliott Smith, Neil Young, The Beatles, but also the greatest composers in classical music, as their influences.
Their first album, Music For A While, is out now on Delabel/EMI. It's a surprisingly mature and polished album for such young musicians. Christophe, Ambroise and Jérémie effortlessly build catchy pop songs, carried by their breezy vocals and perfect harmonies. Definitely anchored in the 60s, Music For A While is nonetheless a very contemporary album, made by inspired and promising young talents.
Revolver - Birds In Dm (Joakim Remix)
Watch a breathtaking performance of "Balulalow" right HERE. Find out more on MySpace and buy Revolver's album on