80KIDZ – WEEKEND WARRIOR (Electro/Club – Japan)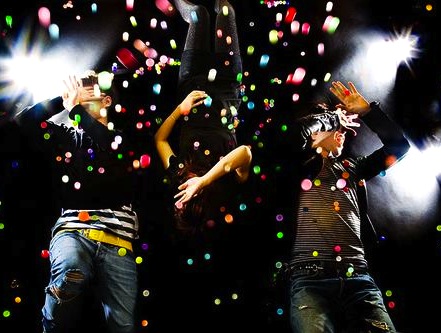 80kidz is a Japanese electro duo (originally a three-piece) formed in 2006 in Kyoto. They released their first bootleg mixtape "The Kidz Are Alright No. 1" in 2007. The mix sold out rapidly and requests for DJ appearances quickly followed. Volume 2 was another success and 80kidz soon started to get noticed by many music blogs and DJs.
This attention went even further with the release of their original track "Disdrive", which was remixed by several known DJs. In August 2008 they released their first EP, Life Begins At Eighty, and their debut album, This Is My Shit, came out in May 2009. Former synthetizer and vocalist Mayu left the group in late 2009.
80kidz have been widely acclaimed for their DJ sets and remixes. In the past few years, they have performed with Justice, Busy P, Boys Noize, Teenage Bad Girl, Hot Chip… They have remixed tracks for the likes of Cazals, Crystal Fighters, Black Kids, Cansei de Ser Sexy, The Lowbrows, Metric, Numéro…
FACT - Why (80kidz Remix)
The new 80Kidz album, Weekend Warrior, isn't quite up to their usual standard. Not as punchy and not as cohesive as their debut, it falls short of expectations. But it still has some pretty alright tracks. "Flow With It" is definitely one of the standout tracks. No wonder the duo's label in South Korea, Locksmith, decided to get one of their top remixers to give it a second lease of life. The Eunchurn remix included on the Korean version of Weekend Warrior plays on harmonies and chord progressions and it really manages to build momentum.
80kidz - Flow With It (Eunchurn Remix)
The second bonus track on this beefed up Korean release deserves a good listen too. It's a remix of the otherwise pretty average "Private Beats". Dj Silent turns this track into a real club banger. Check it out and dance!.
Show 80kidz some MySpace love and buy their music on