BOT'OX – BABYLON BY CAR (Electronic/PostPunk – France)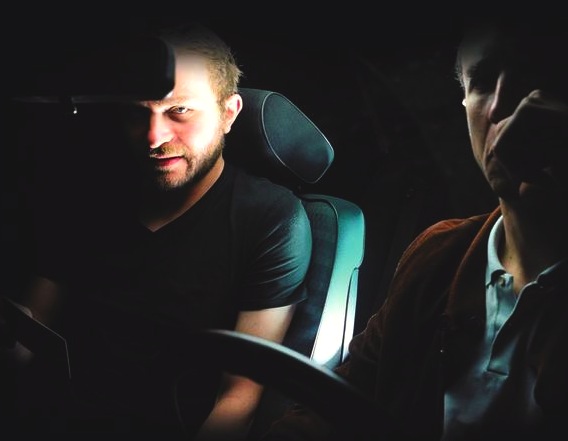 French electronic duo Bot'Ox is Benjamin Boguet (aka Cosmo Vitelli) and Julien Briffaz (half of Tekël), two musicians and producers brought together by a passion for music in general and a nostalgia for the long-lost golden age of the industrial era. After a few critically acclaimed singles, released on labels as essential as DFA, I'm a Cliché, DC Recordings or Marketing, the duo is gearing up for the release of their first full-length album, Babylon By Car, next October on Parisian label I'm A Cliche.
The album presents a selection of newly edited songs from the past and a handful of new tunes. On the one hand, the older tracks offer a glimpse of the dark and slightly vicious side of Bot'Ox, as in the post-apocalyptic title track which was first released two years ago on Death From Above. On the other, the new songs reveal a new side of the duo's personality: mellower but still quite unsettling with their (false) monotony.
Bot'OX - Rue De l'Arsenal (Yuksek Remix)
Babylon By Car counts with a few first class guest vocalists. The song "Tout Passe, Tout Lasse, Tout Casse" is sung by Judy Nylon, half of the cult band Snatch, from the No Wave New York of the late 70's. "Slow Burning," at the end of the album, features Mark Kerr, also on "Tragedy Symphony" and "Blue Steel" is glorified by the toneless voice of Anna Jean, from the band Domingo.
Far from your usual musical canons and re-hashed structures, Bot'Ox do their own thing, giving birth to greatly personal music. Like the last tracking shot in a movie, Babylon By Car exudes both melancholy and hope. Built on this ambiguity between nostalgia and modernity, between pop and post-punk, electronica and rock, past and future, the duo's first LP is a journey into its creators psyche. Buckle up and drive safely!
You can show Bot'Ox some love on MySpace and buy most of their music online at
Like it? Share it!