CHICKS ON SPEED @ SPRINGTEN (Electroclash/Alternative – Germany)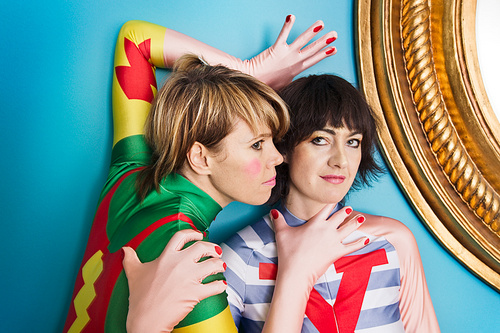 For over ten years Chicks on Speed have been blurring the boundaries between music, graphic art, video and fashion. Alex Murray-Leslie and Melissa Logan, who met at the Munich Art Academy, created CoS in 1997 to organise art exhibitions and host illegal parties. Later on they met Kiki Moorse, who was the third member of CoS until 2006, when she left to pursue a career in DJing and start a new music project, Bad French, with Andreas Reihse. They have also collaborated with many artists, including Anat Ben-David, Kathi Glas and A.L. Steiner.
After releasing a handful of critically acclaimed LPs, Chicks on Speed are now experimenting with a new form of music distribution. Since April 1st they are releasing one track per month absolutely for free (www.chicksonspeed.com) and performing live DJ sets across Europe to promote their new tracks. Last night they rocked springten with a colourful DJ set / happening during which they danced, sang, spinned records and even performed acrobatics on stage.. See some pics HERE.
Chicks on Speed - The Beat Is Happening
For Chicks on Speed, the traditional album is dead and that's why they've decided to take advantage of this digital era by not having any record company between them and their fans. All new songs, produced by Dirty Disco Youth (aka Phil Speiser), will be given out for free on chicksonspeed.com and fans will even be able to download stems and create their own remixes, thereby becoming part of the creative process and artistic dialogue promoted by CoS.
For those of you who are new to Chicks on Speed, let's go back in time a few years and listen to their now legendary collaboration with Canadian artist Peaches. "We Don't Play Guitars", or do we?
Chicks on Speed - We Don't Play Guitars (Ft. Peaches)
On a side note, Chicks on Speed are also preparing for a major solo exhibition at Dundee Contemporary Arts Centre, 23rd may. Go to their page on MySpace for more info and all tour dates. Buy their music on