DALE EARNHARDT JR JR – IT'S A CORPORATE WORLD (Indie/Alternative – US)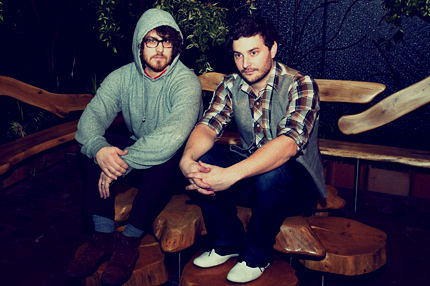 Detroit-based duo Dale Earnhardt Jr Jr hardly abide by genre rules. Many critics have tried to make them fit into preestablished categories, labelling them as indie, dream pop or folktronica, but none of these definitions really suit the band. Joshua Epstein and Daniel Zott aren't too bothered, they'd much rather concentrate on making some cool music and having some fun in the process. This is probably why this whole album feels so fresh and genuine. It is far from revolutionary in its stylistic choices but its positive mood is incredibly contagious.
The band is currently giving away their new song "Morning Thought" for free in exchange for your email address. Head over to their Facebook to get it!
Dale Earnhardt Jr Jr - Morning Thought
With all its crazy mingling of the genres, It's A Corporate World manages to be an album which might appeal equally to fans of Sufjan Stevens, Passion Pit or Yeasayer. But don't take my word for it, check out the dreamy pop song "Skeletons", possibly the best track on the album. It subtly merges light drums and nylon string guitar with darkly sweet vocals, harmonies and whistling.
Dale Earnhardt Jr Jr - Skeletons
Catch up with Dale Earnhardt Jr Jr on their official site or MySpace. Buy all their music on