ELECTROSEXUAL + SCREAM CLUB – BREAK YOU NICE (Electro – Germany)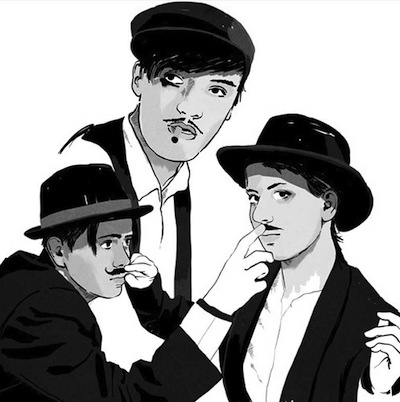 As a producer, DJ and video director, Electrosexual has worked with the likes of Peaches, Robots In Disguise and Ssion. Deeply influenced by primitive analogic electronic music, he combines rough masculine basses, drum programming and old analog synths.
With releases and production on various albums, singles and compilations (including remixes for David Carretta, Mirah and Fil Ok), Electrosexual has now teamed up with Scream Club to release the Break You Nice/Screaming And Crying EP. This new release features vocals from: Shunda K. (Yo! Majesty), Zoe Vermillion (Vermillion Lies) and Mz Sunday Luv. It also includes exclusive remixes from Divider, Hard Ton and Leonard De Leonard…
Electrosexual and Scream Club - Break You Nice (Divider Remix)
Scream Club is Cindy Wonderful and Sarah Adorable. They blend together elements of hip hop, pop, punk, dance, glam rock, electro and rap. While embracing the glitz and glamour of mainstream culture, they still remain true to their D.I.Y. roots. Now located in Berlin, they have built a solid following around the world. due to their catchy songs, artsy music videos, and energetic stage shows. They also run their own label: Crunks Not Dead Records.
They have three full length releases "Don't Bite Your Sister" (2004), "Life of a Heartbreaker" (2006) and "Big Deal" (2009) and are currently recording their fourth album, due out in 2010. It will be produced by Electrosexual and will feature many guest appearances. Over the years, SC have worked with the likes of Beth Ditto and The Shoes and their tracks have been remixed by Yuksek, Leonard deLeonard, Hard Ton and many more.
The Shoes Feat. Scream Club - Keep That Control
Electrosexual on MySpace – Scream Club on MySpace.
Buy Electrosexual and Scream Club's brilliant Break You Nice / Screaming And Crying EP, with three remixes, on