FM BELFAST – HOW TO MAKE FRIENDS (Electro/Alternative – Iceland)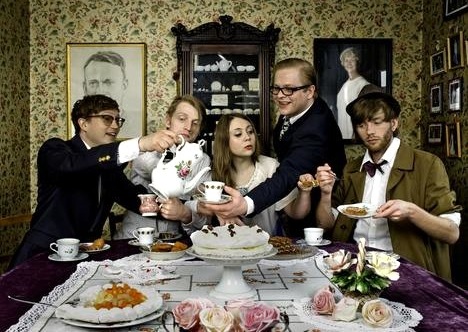 FM Belfast started out as a duo in 2005, around Christmas time, when Árni Rúnar Hlöðversson and Lóa Hlín Hjálmtýsdóttir made a song as a present for their friends. What could have been a one-off collaboration actually turned into a full-fledged band the following year, when Arni Vilhjalmsson and Orvar Smarason joined the band. In October 2006 they were invited to play their first full concert at the internationally renowned Iceland Airwaves festival in Reykjavik.
The members now vary from three to eight depending on who can make it, but the band's hard core is Árni Rúnar Hlöðversson, Árni Vilhjálmsson and Lóa Hlín Hjálmtýsdóttir. FM Belfast's debut album How To Make Friends relies heavily on programmed beats and synths, pumped up with the band's innate sense of fun. The album oozes a retro 80s vibe and it will make you bob your head till your neck hurts.
Of course FM Belfast are not the first Icelandic band to make electronic music, but their sound is different from that of fellow Icelanders Sigur Rós or Eberg. Their songs are infused with a sense of derision that makes them instantly accessible and familiar. With their lo-fi casio keyboards and simplistic lyrics, FM Belfast make music for the 21st century, music for the club. Party on!
For more info find FM Belfast on their official site. Buy the music on