GERMANY GERMANY – ADVENTURES (Electronica – Canada)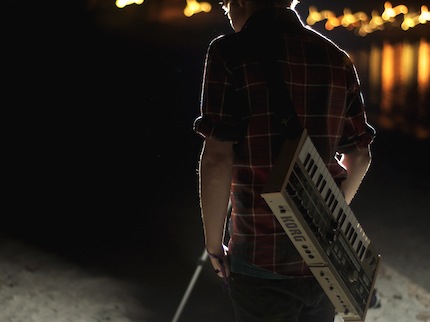 Germany Germany is the musical alias of Drew Harris, a Canadian musician/producer/keytarist, who started the project in December 2009. At the beginning Germany Germany was just a form of musical experimentation but things quickly got more serious for the aspiring artist when his songs started appearing on some influential blogs and when two of them went to #2 on The Hype Machine.
Drawing influences from ambient music, electro-house, new wave and post-rock, Germany Germany has released five albums so far. His new full-length, Adventures, was released only a few days ago and features 17 new tracks, no less!
Germany Germany - Cold Hands
Effortlessly alternating between introspective electronica and more beat-driven numbers, Adventures sounds like a real journey into Harris' colourful creative world. Sometimes reminiscent of compatriots Holy Fuck and Crystal Castles, this record has a more pronounced pop sensibility than either of them, which means you can as easily listen to it at home, in a club or in your car. It also means that Germany Germany may appeal to a wider range of ears and eventually become a real mainstream success.
If you liked the two songs posted above, here's another freebie for you, a gorgeous remix Germany Germany did for Sydney-based trio RÜFÜS. The song is called "We Left" and this remix is nothing short of heroic!
RÜFÜS - We Left (Germany Germany Remix)
Find more info and get a whole bunch of free downloads on Germany Germany's  official website. You can also buy his music on Distorted Disco or