GIN JOINTS – FOR TONIGHT (Disco/Funk – Sweden)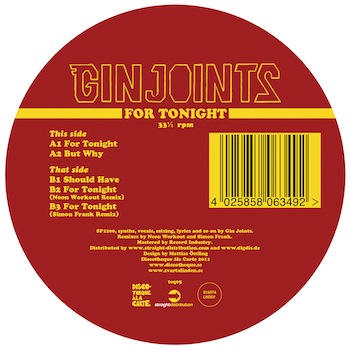 With his roots in the Swedish hip hop scene, Gin Joints was still in his teens when he started DJing and making music with rappers like Planet Asia, Grand Agent, Movits! and Young Ivy. A few years down the line, Gin Joints has moved on from his first compositions and turned to 80s funk, disco and electro for inspiration.
To follow up on his very well received debut solo EP, Know The Ledge, Gin Joints is introducing a brand new five-track EP called For Tonight. Released via Swedish label and party promoter Discotheque á la Carte, the EP includes three original tracks and two killer remixes of the title track by Neon Workout and Simon Frank.
This record maintains the same funky/electro direction as Know The Ledge but this time around the beats are icy cold and the mood is perfect for a mid-winter jam.
For more info and music, find Gin Joints on MySpace. Buy For Tonight now in vinyl stores all over and on