GRAND POPO FOOTBALL CLUB – VENOM IN THE GRASS (Indie/Electro – France)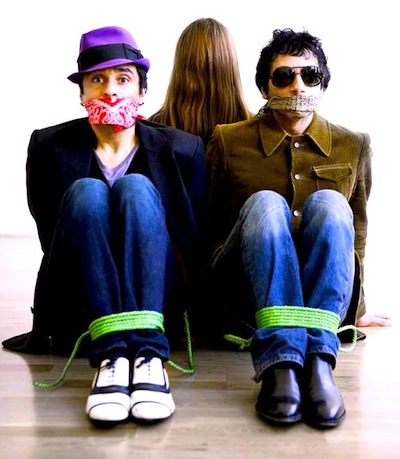 Grand Popo Football Club is a French electro band created in the late 90s by Ariel Wizman and Nicolas Errera. Ariel Wizman is a well known French TV anchorman, radio host and DJ. Nicolas Errera is a producer and a classically trained pianist, who studied at the National Conservatory in Paris.
The duo apparently adopted their unusual moniker after Wizman visited the West African village of Grand Popo to film a television programme and decided that the community was missing a football club. GPFC's first recording appeared on the Source Lab 3 compilation in 1996, but it took them four years to release their debut LP, Shampoo Victims, which spawned the hit single "Les Hommes C'est Pas Des Mecs Biens".
Grand Popo Football Club – Les Hommes C'est Pas des Mecs Biens
Over eight years after their debut, Ariel and Nicolas got back into the studio and teamed up with Tania Bruna-Rosso to make a new record, Venom In The Grass (released in February). Tania lends her voice to some of GPFC's new material, including the first single "My Territory". This is a great electro disco song with sweet vocals and glistening synths and it clearly shows that GPFC are back in good form. The track has been remixed by the likes of Joakim, Krunk and Don Marciano. Check out Joakim's vocal remix just below..
Grand Popo Football Club - My Territory (Joakim Vocal Remix)
Find Grand Popo Football Club on MySpace and buy their music on