HERCULES & LOVE AFFAIR – BLIND (Disco/Electro – US)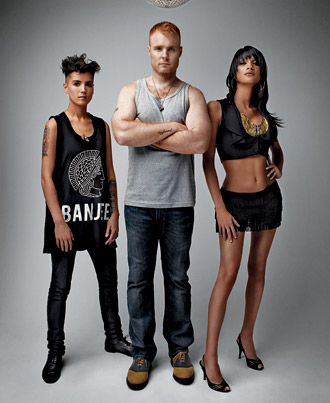 Hercules and Love Affair is a New York-based musical project. Their record company (dance music mainstay DFA Records) describes them as "a pan-sexual mix for our troubled times".
That is one way of describing this eclectic bunch of artists and guest vocalists: Antony Hegarty (the Mercury prize-winning torch singer and radical gay performance artist, with a strong interest in gender reassignment), transsexual vocalist Nomi Ruiz, dancer Shayne, a gay B-boy and mainstay of New York's voguing scene, and Kim Ann Foxmann (a Hawaiian lesbian jewellery designer famed for running a notorious club called Mad Clams, where one could apparently "get away with anything – smoking, sex, drugs, peeing in the corner, dancing naked").
The band's central figure, Andrew Butler, began his musical career at 15, DJing in a Denver leather bar run by a hostess called Chocolate Thunder Pussy. He then moved to Brooklyn, in order to attend Sarah Lawrence College and fulfill his dreams of building a career in music.
Hercules & Love Affair's debut album (produced by Butler and Tim Goldsworthy) was released on 10 March 2008 on DFA Records. It has been critically well-received and charted in the top 40 in several countries. The band made their live debut on May 17, 2008, at the Studio B venue in Brooklyn, New York, before going on a European and North American tour.
Hercules and Love Affair - Blind (Feat. Antony Hegarty)
Their song "Blind" co-written and featuring guest Antony (lead vocalist in Antony & The Johnsons) was awarded Best Song of 2008 by Pitchfork Media. For Butler's sophomore album under the Hercules moniker, he says he will involve "a whole handful of new artists," stating that his plan is to release music with a rotating cast of performers and musicians.
Show Hercules and Love Affair some MySpace love and buy their music on Amazon or