JAVELIN – CANYON CANDY (HipHop/Electronica – US)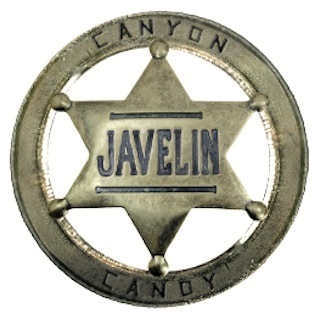 Based in Brooklyn, alternative hip-hop production duo Javelin is back with a new EP, which feels more like an album: Canyon Candy EP. Released last April on David Byrne's label Luaka Bop, this new record follows in the footsteps of Javelin's gorgeous debut album, No Más, hailed by Pitchfork Media as one of the "Albums of the Year" upon its release in 2010.
Staying true to the style they perfected ever since their 2006 debut, Canyon Candy is quirky without being goofy, and the carefully selected sampled sounds are still cleverly mixed into a gorgeous sonic collage. This collection of finely crafted tunes reflects the time Tom Van Buskirk and George Landford spent driving through wild landscapes when they toured with Yeasayer or their good friends Lucky Dragons.
Javelin recorded some tracks on the road, others at home when on break from tour and the end result is a highly cinematic record that feels like the a weird hybrid of Ennio Morricone and Pharrell Williams. At roughly two minutes each, the tracks are concise but they manage to encapsulate the idea of the wild wild west in their sprawling soundscapes.
Canyon Candy is available on 10″ inch with Luaka Bop, as a Playbutton and is also featured on a stylish 12-minute video internet epic of the same title, which can be viewed HERE… As a bonus, check out an older track by Javelin: "Tryouts" taken off their 2009 album Jamz n Jemz.
If you like what you hear, show Javelin some love on MySpace or check out their official site! Get the new EP from the Luaka Bop online store or