MUJUICE – COOL COOL DEATH (Electronica/IDM – Russia)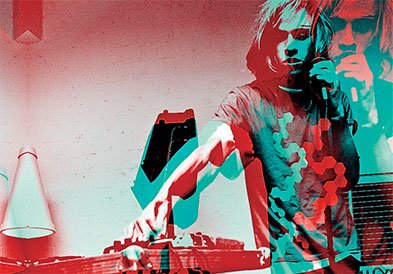 Mujuice is a Moscow-based artist who is at the forefront of electronica in Russia. In his music, he skillfully combines the robotic glitches of modern electronic music with dense layers of natural sounds. Working without a formal musical education, he started experimenting with electronica when  still a teenager and released his first LP, Superqueer, in 2004. His early works were sparsely arranged electronic compositions akin to European minimalist electronica (think Berlin avant-garde).
Mujuice - Backward Running
Even though his music relies on sampling methods, Mujuice refuses to be labelled as a strictly electronic producer, believing that contemporary artists should use all available resources. Blurring the lines between genres, he borrows elements from acoustic jazz and pseudo-symphonic music but he also uses clicks'n'cuts, microsampling and glitch tech. His 2007 full-length Cool Cool Death bursts with energy, blending  layers of melody with vocals and pounding drum samples.
Mujuice - Mertviy Malchik
Mujuice recently joined forces with fellow countryman Xuman (see our post about him HERE), contributing one new track to Xuman Records new Tales compilation. Tales is now available on
You can sample more tracks by Mujuice and watch his videos on MySpace.