NEW NAVY – ULUWATU (Indie/Pop – Australia)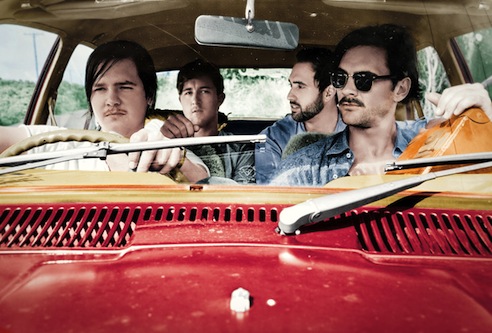 New Navy have come a long way since the release of their three-track demo last year, which saw them hold the number one position on Australian radio Triple J unearthed charts and share stages with the likes of Wolfmother, The Philly J's, Midnight Juggernaughts, The Holidays and The Scare.
Ahead of the release of their long-awaited debut EP, the New Navy released the single "Zimbabwe" last April to rave reviews. It's one of those songs that feel instantly familiar from the very first time you hear it, as if you'd heard it one hundred times before. From the very first notes of its whistled intro and right to its upbeat tropical guitar hook, "Zimbabwe" is THE original late summer party anthem, the song you heard as background while sipping on the last cocktail before the end of the holidays.
From the grandiose opening of "Zimbabwe", the summer grooves of "Tapioca" to the dramatic crescendo of "Oceans", New Navy's debut Uluwatu EP demonstrates the Australian band's powerful songwriting ability and consistent style. New Navy balance sparkly guitars with front man Ben McInerny's smooth vocals, delivering strong bass-lines and breezy indie grooves to great effect. Think a lighter version of Foals, older version of Two Door Cinema Club or sunnier version of The Whitest Boy Alive…
Check them out on MySpace or visit their official site. You can get their 3-track demo EP for free or name your own price at Bandcamp and you can buy the single "Zimbabwe" on