SHINDU – HAPPY HOUSE (Electro/Pop – Belgium)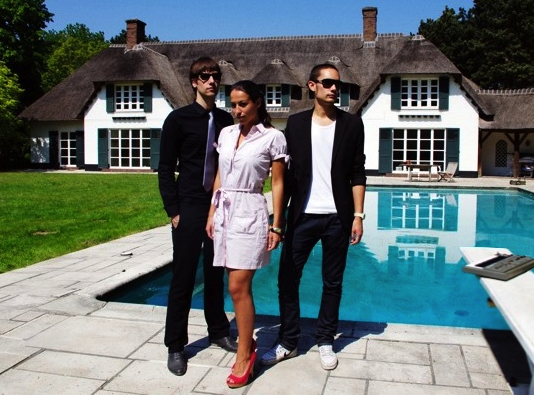 Out of the dark and into the blue, two boys and a girl from Belgium collide to create Shindu. A refreshing synthpopsensation that embodies the challenge to take music into the dawn of a new era. Shindu started out as DJ duo Static & Greedy, created a while back by Christopher D'havé and Maxime Abbenbroek, who spent years journeying through Belgian club life and sharing their quirky mixture of electro with crowds of happy dancers. To complete the band, they needed a strong leading lady so they set up some auditions and it quickly became clear that Chibi was the right one for the job. As for the icing, they got introduced to producer Sebastiaan Vandevoorde (aka Moonlight Matters), met up in the studio, exchanged some ideas and finally felt we'd established the perfect team to get things started.
Shindu create jaunty yet clever dancefloor-friendly tracks drenched in late 80s electronica and synthy atmospherics. Their version of Siouxsie and the Banshees' 1980 classic song "Happy House" is too good, so here it is for you to enjoy. The Happy House EP with remixes from Herr Styler, Midnight Savari, JBAG, Martians and Polydor is out since June 27th on Kitsuné.
Shindu - Happy House (Martians Remix)
The Belgian trio is now polishing its live act and planning to take it on the road real soon all around Europe and beyond. The next step will be getting back in the studio to cook up some new tracks. For more info, check out their official site or follow them on Facebook. Buy the Happy House EP on