SLAGSMALSKLUBBEN @ SPRINGTEN (Electro/Club – Sweden)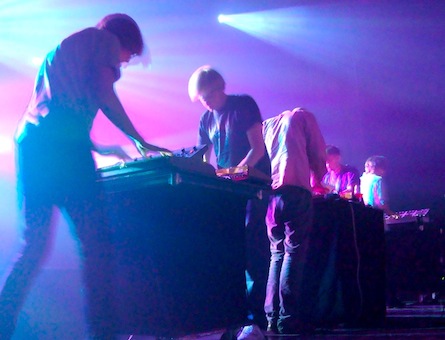 The first sound of Slagsmålsklubben (SMK) was made by mistake in November 2000 when the leadsinger of The Solbrillers didn't show up for rehearsals and a faulty installation produced some sound that inspired the musicians present at the rehearsal… Before sunset three songs were made in which everything (drums, bass and melody) came from that faulty toy keyboard/amp set up. One of those tracks, "Hit Me Hard", was later released as the first single from SMKs debut album Den Svenske Disco (2003).
SMK gradually added members until reaching their current lineup. Björn, Frej, Hannes, Beebop, Joni and Kim each bring their own influences and musical backgrounds to the project and their music is all the richer for it.
Slagsmålsklubben - Sponsored By Destiny
Last night at springten, SMK swept festivalgoers off their feet with a dazzling performance at Orpheum theatre. The swedes proved that they really are one of the best live electronic acts around. With their synths and beatboxes they managed to breathe life into the electronic beeps and bops that make up their songs. Hypnotic melodies and thumping basslines inundated the theatre and the crowd couldn't have been happier. Wow!
Check out Slagsmålsklubben on MySpace or go to their official site for more detailed information. To buy all their music, head over to