SPRINGFESTIVAL (Graz – Austria)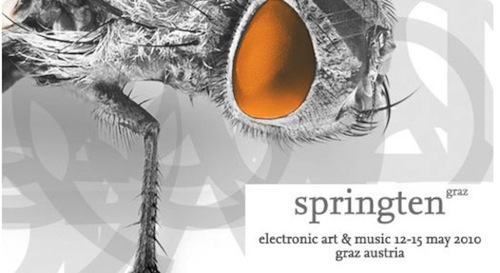 Kicking off the festival season, springten will be opening tomorrow in Graz, Austria and umstrum||music will be there to cover the event. Reporting every day from May 12 to 15, we will bring you a handpicked selection of the best artists, international and local. This year's lineup includes such acts as Moderat, Yuksek, Villa, Disco of Doom, NOZE, SomethingALaMode, James Yuill, DJ Hell, Ebony Bones, Chicks On Speed, Rainer Trüby, Zoot Woman, Erol Alkan, Kruder & Dorfmeister, Autokratz, Breakbot, ETEPETETE, Slagsmålklubben, Zombie Nation, Jahcoozi…
For the record, springfestival in Graz was born ten years ago and over the years it has grown to become the biggest Austrian festival for electronic music and art.  It is now a true meeting place for live musicians, multiple electronic genres and clubbers alike, united for a long weekend of aural enrichment and cultural hedonism. In 2010, celebrating its tenth anniversary, springfestival is ready to take on the new decade bigger and better than ever. 
As a teaser, here are some tunes that are likely to float in the air of Graz in the next few days: Autokratz's new single "Kick" remixed by KATFYR and a remix of Rob Cowen & The Dissidents by James Yuill..
Autokratz - Kick (KATFYR Remix)
Rob Cowen & The Dissidents - City Lights (James Yuill Remix)
See you tomorrow for the first springten post.. Find out more about the festival on the official website and buy tickets HERE.