saturday nite with… THE PHENOMENAL HANDCLAP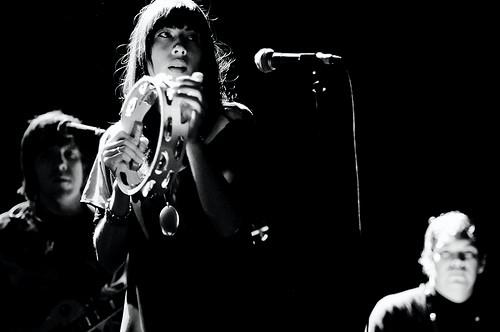 The Phenomenal Handclap Band is a tight-knit aggregation of musicians and artists from Lower Manhattan and Brooklyn. At the center of it there are two talented musicians: Daniel Collás and Sean Marquand, who, after years of searching and contemplation, through live performance and the manipulation of recorded music, have finally succeeded in realising their singular musical vision. They have gathered around them talented musicians such as Patrick Wood, Nicholas Movshon, Luke O'Malley, Laura Marin, Quinn Luke, and Joan Tick, enhanced by the remarkable talents of Aurelio Valle, Carol C, Jaleel Bunton, Bart Davenport, Jon Spencer, and Lady Tigra, among carefully chosen others.
The Phenomenal Handclap Band - Tears
Together they have crafted a sound that is equal parts anthemic, dancefloor-oriented and orchestral, borrowing elements from progressive rock, disco, electro, and psychedelia.
The Phenomenal Handclap Band started when Collás and Marquand, two New York underground club DJs, became restless with the concept of playing other people's music. Both had also been involved in the thriving nightlife scene and had an almost encyclopedic knowledge of esoteric music ranging from Brazilian soul to vintage psych-rock. As a band The Phenomenal Handclap have put together a stunning debut album which is the harmonious culmination of their diverse musical backgrounds.
The Phenomenal Handclap Band - Baby (Clock Opera Remix)
[more on Clock Opera
HERE
]
The Phenomenla Handclap Band - 15 To 20 (David E Sugar Replay Remix)
For more info, check out the band's page on MySpace. You can buy their debut album on