THE TAPEATERS – VISIONS (Electro/SynthPop – Russia)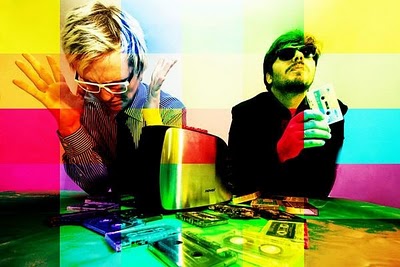 Russian synthpop duo The Tapeaters began formed in 2009 when Vadim Pukhov (vox, synths, guitars) and Dimitri Kozlow (synths, talkbox), after years of participating in various projects, decided to try to write a couple of songs together.
Influenced by "the sound of the early 80s, this period of electrofunk and disco, when synthesizers took over the minds of musicians", their sound mixes airy vocals, soft sound of a vintage Moog synthesizer, dance beats and a welcome dash of pop, sending listeners to the golden heyday of electronic music. Here's their remix of Sydney-based 1980s new wave pop band Machinations.
Machinations - No Say In It (The Tapeaters Remix)
Now signed to OMG! Records, The Tapeaters released their debut album, Visions, in November 2011. Since then, they have attracted a fair bit of attention, especially after a their last single "Satellite" got the remix treatment at the end of last year. The remixes come courtesy of Lifelike, Ghosts of Venice and Xinobi. Check out Xinobi's take on the song below…
The Tapeaters - Satellite (Xinobi Remix)
For more info, check out The Tapeaters' official site and/or MySpace. Stream their debut album on Bandcamp and buy it on