saturday nite with… THE WHIP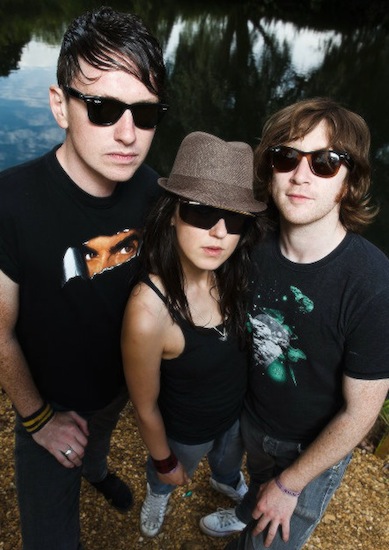 Formed in 2006, The Whip is an electronic rock band from Manchester, composed of Fiona "Lil Fee" Daniel on drums, Nathan Sudders on bass and Bruce Carter on vocals and guitar. The band's debut album, X Marks Destination, was released on Southern Fried Records three years ago, in March 2008.
The Whip - Divebomb (Futurecop! Remix)
After a clutch of heavily hyped up singles including club hits "Trash" and "Divebomb", which established the band at the forefront electronic rock music scene, The Whip will return in September with a new album, entitled Wired Together. A move on from the high octane nature of X Marks Destination, the new album retains The Whip's ability to set pulses racing with pounding rhythms, electro handclaps and dancefloor friendly beats.
The fruit of eighteen months of hard work and almost six months spent night and day in the studio of producer Jagz Kooner in London, Wired Together broadens the band's palette to introduce a  more celebratory vibe and a more lyrical version of the band's dance music. What it may like in finesse, the record will probably make up for in catchy hooks and electrifying outbursts of pop energy. This will be for The Whip's fans to decide…
The album is available to pre-order from the band's site at www.thewhipband.com from June 20th.
Find out more on the official site or MySpace and stream five tracks off the album on Souncloud. Buy The Whip's music on