AMADOU & MARIAM – REMIXES (Pop/World – Mali)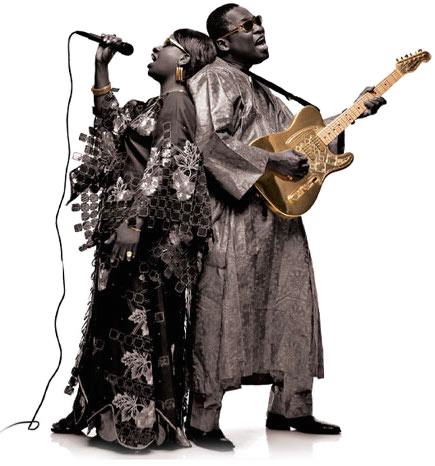 Malian superstars Amadou Bagayoko (guitar and vocals) and Mariam Doumbia (vocals) are releasing their first ever remix compilation and this calls for a little celebration.
The fourteen-track album was released on December 20 in Europe and will be out in the US on January 10 2011. It features tracks from their best-selling albums Welcome to Mali and Dimanche à Bamako with several new versions and some previously unreleased mixes from across their catalogue.
Amadou & Mariam- Sabali (Vitalic Rmx)
Amadou and Mariam's joyous Afro-pop is authentic and uplifting and it somehow manages to cross musical borders. The duo have admirers from all over the musical map, and many of them show up on Remixes. Highlights include new versions of "Sabali" by Swedish producers Miike Snow and French Techno maestro Vitalic. There is also a wonderful remix of "Ce N'est Pas Bon" by South Africa's DJ Aero and many other great reworkings by Nas and Damian Marley, Akon, Theophilus London, Yuksek and more…
Amadou & Mariam are currently working on their new album, which will feature Santigold and the Nick Zinner from Yeah Yeah Yeahs… As a bonus, here's an older edit of "Sabali" by UK producer Paul Epworth.
Amadou & Mariam - Sabali (Paul Epworth Remix)
Get more info and updates on their official website or MySpace. Buy all the music on