CHEW LIPS – UNICORN (ElectroPop/Indie – UK)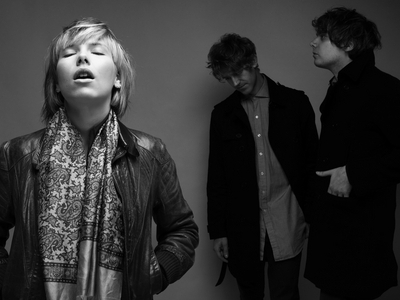 After releasing two acclaimed singles on hip Parisian label Kitsuné, British electro-pop trio Chew Lips finally released their highly anticipated debut album in January. Unicorn is a consistent pop album packed with catchy tunes and impeccable synth melodies. On this album, Tigs (vocals), James Watkins (bass, synths) and Will Sanderson (guitar, synths) teamed up with Bat For Lashes collaborator, David Kosten, who helped them craft ten slices of pitch-perfect stylish pop.
Chew Lips - Play Together
Taking cues from the 80s (think KRAFTWERK), Chew Lips is part of the current wave of girl-fronted electro bands (La Roux, Robyn, Little Boots) but their strong songwriting displays more serious ambitions that you can sense on tracks such as "Too Much Talking" or "Piano Song", revealing a much more sensitive side of the group.
If you've been following this blog, you will remember Chew Lips' first single "Solo", which was included on U R MY DISCO // vol.3 and their subsequent hit "Salt Air", which was given the remix treatment by French electro geniuses Jupiter…
Chew Lips - Salt Air (Jupiter Remix)
Check out the video for their new single "Seven" just below and don't forget to visit MySpace for more info, more music and tour dates. Unicorn is available now on