CHROMEO – NIGHT BY NIGHT (Electro/DiscoPop – Canada)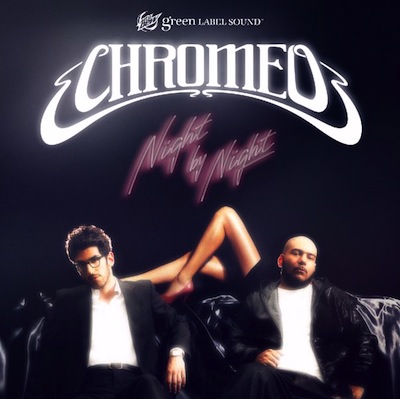 Chromeo is a Montreal-based electrofunk duo whose music is described as "a shameless return to the glistening, sex-saturated synthpop which ruled the eighties."
The duo is composed of P-Thugg (Patrick Gemayel) on keyboards, synthesizers, and talk box, and Dave 1 (David Macklovitch) on guitar and lead vocals. The two childhood friends jokingly describe themselves as "the only successful Arab/Jewish partnership since the dawn of human culture." For your information, David Macklovitch is the older brother of A-Trak (Alain Macklovitch).
Highlights of their 2004 debut album She's in Control include the club tracks "Needy Girl", "Mercury Tears", "Rage!", and "Destination: Overdrive". In early 2007 Chromeo supported indie rock group Bloc Party on their British tour. They also released the single "Fancy Footwork" as well as their second album of the same name.
"Night By Night" is the first single taken off Chromeo's forthcoming album and it has just been released as a free download courtesy of Green Label Sound. Yay to that!
Stay in touch with Chromeo via their MySpace and buy their music on