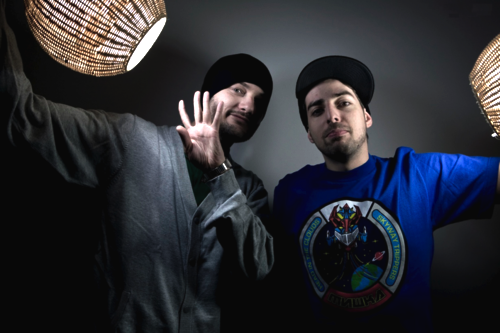 Italian DJ duo Crookers are fast becoming one of the most blogged about electro acts on the blogosphere and we have to give credit where it is due, they're pretty good! Bot and Phra have worked together since 2003, brought together by a common desire to explore dance music. Phra says: "It felt natural to team up, seeing that we had the same musical tastes… which isn't that easy here in Milan"
After releasing three EPs in the past couple of years, they are now presenting their first album, Tons Of Friends, out since March 8. The record features Soulwax, Yelle, Miike Snow, Róisín Murphy and then some.
Crookers - Remedy (Feat. Miike Snow)
Crookers - Hold Up Your Hand (Feat. Roisin Murphy)
Drawing from influences of house, hip hop and beyond, Crookers blend their beats with the kind of fidget house finesse that gives birth to tracks that twist, startle and surprise with synthetic pop.
Crookers - Cooler Couleur (Feat. Yelle) (Junkie XL Remix)
The boys are also known for their remixes of artists such as Basement Jaxx, Fever Ray or Lady Gaga. For the record, their remix of Kid Cudi's "Day'N'Nite" entered the UK singles chart straight at number 2!
Show Crookers some love on MySpace and get their music on