DRAGONETTE – FIXIN TO THRILL (Electro/Synth/Pop – Canada)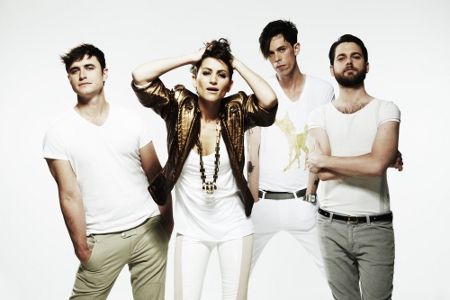 Dragonette is finally back with a brand new album, Fixin To Thrill, which is out in Canada on September 29th (get it on iTunes) and in the rest of the world in October.
Dragonette - Fixin To Thrill
Canadian electropop band Dragonette is singer-songwriter Martina Sorbara, bassist and producer Dan Kurtz, guitarist Chris Hugget and drummer Joel Stouffer. Their debut album, Galore, was released in 2007, spawning the singles "Take It Like  A Man" and "I Get Around".
Dragonette - Pick Up The Phone (Richard X Radio Edit)
With their sharp and witty pop songs Dragonette have become a mainstay  of many electro blogs. Their highly anticipated new album album, Fixin To Thrill, is sure to get a lot of blog love over the next few months.
Read more about Dragonette HERE and HERE and follow them on Facebook. Buy the music on