FIRST AID KIT – THE BIG BLACK AND THE BLUE (Acoustic/Folk/Pop – Sweden)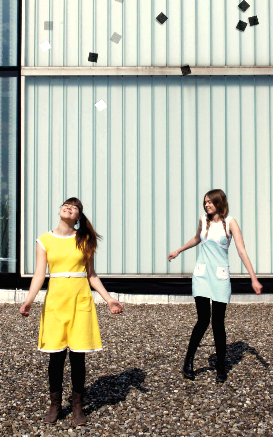 First Aid Kit is a Swedish indie/folk duo consisting of precociously talented sisters Klara and Johanna Söderberg (ages 20 and 17 respectively).  The Stockholm-based duo emerged in 2007, with a few songs posted on MySpace, and they made their intentions clear right away: "We aim for the hearts, not the charts".
Their debut EP, Drunken Trees, was released in April 2008 in Sweden on the label Rabid Records, managed by  cult Swedish electronic duo The Knife. The EP was then re-released through Wichita Recordings in 2009 with one bonus track (Fleet Foxes' cover "Tiger Mountain Pesant Song") and three live versions.
First Aid Kit - Winter Is All Over You
Klara and Johanna's sound is rich, vocal-led, vintage-sounding folk music, propelled by solid melodies and  heart-wrenching harmonies. Their debut album, The Black & The Blue, released in January 2010, has been hailed by critics for its perfect songwriting and entrancing vocals. Now the two sweet-faced sisters are getting even more blog love following the release of their fantastic cover of Fever Ray's "When I Grow Old".
First Aid Kit - When I Grow Up (Fever Ray Cover)
For more music and up-to-the-minute news, check out First Aid Kit's page on MySpace. Don't forget that they also have an official site that you can visit HERE and that you can buy their music on