FLOWERS AND SEA CREATURES – DEBUT LP (Downtempo/Chillwave – Canada)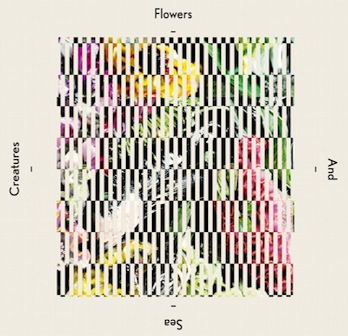 Montreal-based duo Flowers and Sea Creatures have been building a formidable reputation since their debut EP Test Pressing in 2010. This first effort and its follow-up, A.M. released in February 2011, have been turning some serious heads in both the electronic underground and the alt-rock overground. FASC deliver a deeply atmospheric and cinematic sound – Graham Baxter's powerful tenor and crystalline acoustic guitars riding over Kosta Megalos' future-disco beats and eerie moods. The album is masterfully produced by a trio of top-drawer producers – Ewan Pearson, ex-Montrealer Fred Everything and The Revenge – all three of which already helped shape both the EPs and now their debut album, simply entitled Flowers and Sea Creatures.
Flowers and Sea Creatures are notoriously reclusive, recording away from the cut and thrust of the Montreal scene in an attempt to carve out a unique sound. Asked about their inspirations, Baxter obliquely namechecks the understated vocals of jazz trumpeter Chet Baker and the dark shadows of Kubrick's 'A Clockwork Orange'. Kosta lists Giorgio Moroder and early 80's sonic experimentalists The Art Of Noise.
With airplay and sessions for XFM, 6Music and Radio 1 already under their belt, plus warm underground club support coming from future-facing DJs like Visionquest, Sebo K and Andre Lodemann, the time seems ripe for the Canadian alt-discotronica duo's debut full-length. Seamlessly alternating introspective moments and festive numbers, this album is a rare jewel that makes a point of proving that electronic music can tap into private feelings and emotions  to create songs that can be equally savoured in private or on the dance floor.
To promote the album, FASC are currently giving away a gorgeous reinterpretation of their single "A.M." Stream the song below and grab the free Mp3 here.
Flowers and Sea Creatures - A.M. (Live Session Version)
Find the band on MySpace to listen to more tunes and buy the album off Buzzin Fly's online store or