GIN JOINTS – KNOW THE LEDGE (Electro/Funk – Sweden)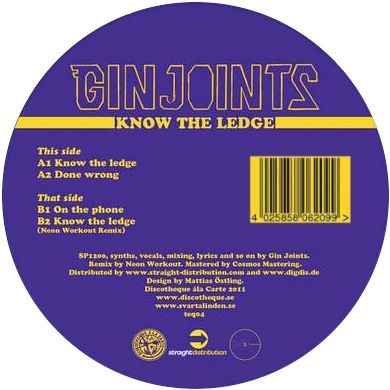 Sweden's Gin Joints started DJing as a teenager in his hometown in northern Sweden. After years of making hip hop with rappers like Planet Asia, Grand Agent, Movits! and Young Ivy, Gin Joints was introduced to 80's funk and there was no turning back. Diligently pushing his new found love for dirty beats, quickly became a solo artist because his rapper friends didn't understand his new grooves. The following night he hunkered down with a microphone and worked out the vocals to what would soon become the title track for his debut solo EP, Know The Ledge, his first vinyl release for Swedish label and party promoter Discotheque á la Carte.
The EP features three tracks of 80s-tinged electrofunk dripping with delicious grooves and retro goodness, and a remix by Neon Workout, which puts an electro twist on "Know The Ledge". Gin Joints' cheesy vocoded vocals and sexy synths take you back to the heyday of disco/funk, when one just needed bell-bottomed pants, a disco ball and catchy tunes to dance till the end of the night. Someone said Studio 54?
Consisting of three tracks of pure throwback business that are dripping retro flavor and jam packed with funkalicious grooves, Gin Joints has got a style all his own that puts a refreshing twist on electronic music.
Find Gin Joints on MySpace. Buy Know The Ledge now in vinyl stores all over and digital stores like Beatport, Amazon and