GIVERS – MEANTIME (Indie/Pop – US)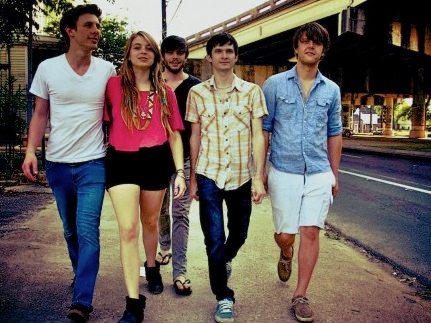 Louisiana five-piece Givers are an indie pop band which formed in 2009 in Lafayette. The band consists of Tiffany Lamson (vocals, percussion), Taylor Guarisco (vocals, guitar), Josh LeBlanc (bass, guitar), Nick Stephan (keyboards, flute, saxophone), Kirby Campbell (drums, vocals). After a first album released on Glassnote Records, Givers are back with more feel-good sounds and flavours of their native Louisiana. The band's new single "Meantime" is another bright and breezy indie pop number, complete with joyous choruses and twinkling xylophones.
The song has already found itself the subject of many remixes, including one by Bombay Bicycle Club and more recently by RAC. Remix Artist Collective is represented by Andre Alan Anjos this time around, who gives an interesting new spin to this awesome track.
Givers - Meantime (RAC remix)
If you fancy sampling Givers' ecstatic and celebratory sound live, note that the band is about to hit the road again starting at the end of the month and continuing through October. They will be in Memphis, Atlanta, D.C, New York, Toronto and New Orleans amongst many others. For more info and complete tour schedule, check out Givers on MySpace or visit their official site. To buy In Light, head over to