KRUDER & DORFMEISTER @ SPRINGTEN (Electronica/Downtempo – Austria)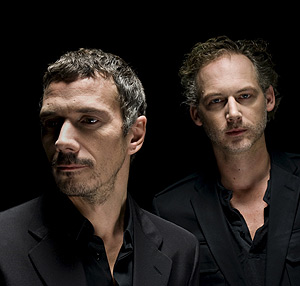 Austrian DJs / producers Kruder & Dorfmeister are almost an institution in the world of electronic music. Their mixes, flavoured with sampler-processed vocals, deep bassline dub, trip-hop elements and bossa grooves, have helped them build a reputation as top notch musicians. Although best known internationally for their remixing work (Bomb The Bass, Depeche Mode, Roni Size), the duo gained their primary reputation in Europe for their live DJ performances and DJ Kicks album.
Lamb - Transfatty Acid (K & D Remix)
To celebrate the 16-year anniversary of their label, G-Stone Recordings Vienna, Kruder & Dorfmeister have recorded a new track and compiled for a selection of 25 tracks from classics to future, so from their beginnings all the way to 2010. On top of this release, K & D decided to give their fans a unique performance in Graz: a 2-hour show with two MCs and visuals by Fritz Fitzke.Standing in center stage, surrounded by no less than 12 screens, the two DJs distilled their beats to an eager audience. The show was definitely well thought out and executed with mastery. Two hours of pure aural pleasure with only one little drawback: the vocals that didn't add so much to the songs and sometimes felt like they had been hastily pasted on top of preexisting tracks. Aside from this, amazing performance!
Bebel Gilberto - Tanto Tempo (Peter Kruder Remix)
Find out more about Kruder & Dorfmeister and get all their tour dates on MySpace.