LOCAL NATIVES – GORILLA MANOR (Indie/Pop/Rock – US)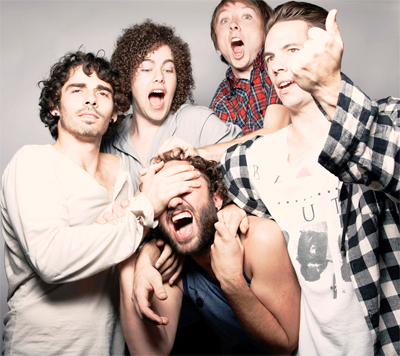 Local Natives are a bunch of five musicians from Southern California and they have just released their debut LP Gorilla Manor (French Kiss / Infectious Music 2009), which you can get on iTunes. Upon first listen though, it seems as if there's no way this can really be their first record. Taylor Rice (vocals/guitar), Kelcey Ayer (vocals/keys/percussion), Ryan Hahn (vocals/guitar), Andy Hamm (Bass) and Matt Frazier (Drums) really sound like they know what they're doing! Their songs roll by with the ease, confidence and chemistry of a much more seasoned act.
Some have compared them to bands like Broken Social Scene but with rich orchestration à la Grizzly Bear or FleetFoxes. I say, let's forget comparaisons and listen to their sound…
Local Natives - Sun Hands
The Local Natives are touring the US at the moment and will soon embark on a huge European tour that will take them to Spain, France, Denmark, Germany, the UK, etc… More info on MySpace!