MADJO – TRAPDOOR (Folk/Acoustic – France)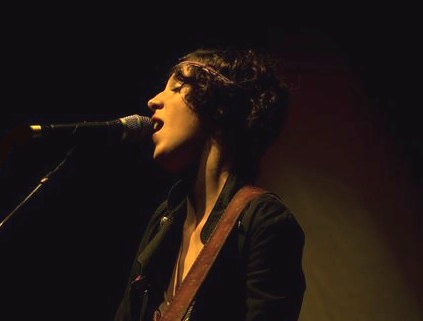 Ever since the release of her self-titled debut EP in November 2009, Madjo's star has been shining brighter and brighter and she might well turn out to be one of this year's major breakthrough artists in France. With her warm voice and delicate melodies, the young singer songwriter has been mesmerizing audiences night after night in concert halls all around the country. Constantly on the road, Madjo sees her songs as moving pieces that evolve with time and she takes advantage of her concerts to touch them up, improve them and let them live.
Influenced by contemporary artists such as Beck, Calexico, The Shins, Beirut, but also music legends such as Johnny Cash, Billie Hollyday or The Beatles, Madjo is a classically-trained violinist but she decided to switch to guitar a few years ago when she started composing. But the instrument that stands out in her compositions is her voice. Reminiscent of the great female voices in jazz music, Madjo's warm and honest voice delivers heartfelt lyrics that always hit home.
Madjo - Where Did You Sleep Last Night
Madjo is currently working on her debut album, Trapdoor, which will be out in September. In the meantime, get her tour dates her official site and listen to more of her tracks on MySpace (check out the amazing "Leaving My Heart"). Buy her debut EP on
Like it? Share it!