SOMETHING A LA MODE – 5AM (Electro/Club – France)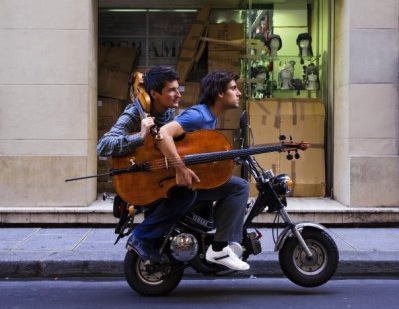 Thomas Roussel and Yannick Grandjean are Something A La Mode, a Parisian duo that recently released their first album. SomethingALaMode (aka SALM) is a rare mix of strings and electro, brought to us by two classically trained musicians who are equally thrilled by post romantics like Chostakovitch or Stravinski and renowned electro artists such as Daft Punk or Mirwais.
SomethingALaMode - GString
The two friends spent years maturing the project in their minds and it wasn't easy to figure out a way to merge all their passions into one. In the end, Thomas, the violinist, and Yannick, the cellist, created what they call an "electro-string" album that dexterously mixes mellow strings, poppy synths and syncopated beats.
SomethingALaMode - 5am (Valerna remix)
SomethingALaMode - 5am (Pance Party Remix)
[via
Empreintes Digitales
]
The single "5am" was released in November 2009, on the heels of their debut album, released a month earlier. The 5am EP contains remixes by Star Guitar and James Curd and is available for download, as well as the album, on
Find out more about SomethingALaMode and check out videos of their live performances on MySpace.