AU REVOIR SIMONE – NIGHT LIGHT (ElectroPop/Folk – US)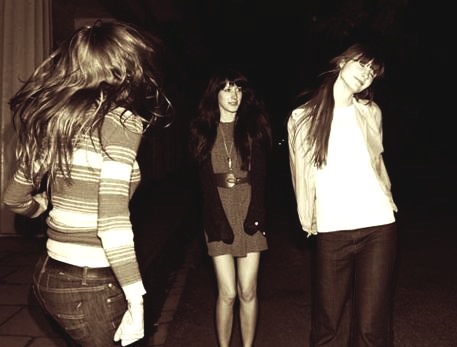 Electronic dream pop band Au Revoir Simone is Erika Forster (vocals and keyboard), Annie Hart (vocals and keyboard) and Heather D'Angelo (vocals, drum machine and keyboard). Since 2003, the Brooklyn-based outfit have been making subtle, breezy, electrofolk and their sound has been praised by the likes of Q Magazine and NME.
On the heels of their widely acclaimed third album, Still Night Still Light (Moshi Moshi 2009), considered by many as their best work so far, Au Revoir Simone recently released a companion remix album called Night Light. The album takes the twelve tracks included on Still Nigh Still Light, mixes things up a bit, dismantles the original tracks and reassembles them in a multitude of ways. With guest artists such as Aeroplane, Jens Lekman, Neon Indian, Jensen Sportag, Silver Columns and Deradoorian (Angel Deradoorian from The Dirty Projectors), you could hope for a strikingly brilliant album. And more often then not it is. But the remixes don't always add much to Au Revoir Simone's elegant synth-pop, which is already a delicate synthesis of many different musical genres. By making these influences more obvious, the remixes sometimes break the spell.
Night Light is still a very pleasant listen and some of the reworks are stunning. Let's mention Clock Opera's remix of "Tell Me", Mack Winston's remix of "The Last One" and Tanlines' remix of "Shadows".
Au Revoir Simone - Tell Me (Clock Opera Remix)
If you like what you hear, check out Au Revoir Simone's profile on Myspace. Buy the album with bonus tracks on