CASIOKIDS – AABENBARINGEN OVER AASKAMMEN (Electro/Pop – Norway)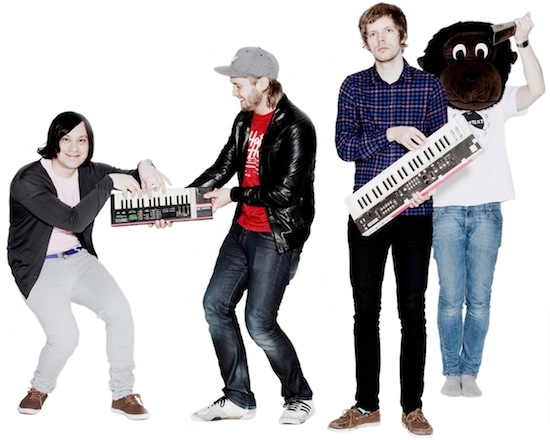 Norwegian electro-pop ensemble Casiokids return with their third album Aabenbaringen over aaskammen (or, in English, The Revelation over the Mountain), released on October 11th via Universal/Polyvinyl. This album is the follow-up to last year's Topp Stemning På Lokal Bar and it comprises 10 tracks, ranging from big sing-along choruses to childish naivism, to dark grooves, and pretty much everything in between. Actually, "eclectic" is probably the word that best characterises this album, so much so that it sometimes even sounds a bit all-over-the place….
Once a motley crew of promising amateurs, Casiokids are no longer an underground band. As a matter of fact, they received a million-kroner grant from Norwegian pop gods A-Ha to produce their new album, and this new affluence, resulting in a more lavishly produced record, might be one of the reasons for their lack of focus. The band had ambitiously promised to explore new roads and techniques while still retaining "the rawness of the first two records" but this kind of balancing act can be tricky for a band that is still relatively young.
Some of the songs are great: the first single "Det Haster!" retains all the the funky energy of earlier success "Fot I Hose" while showing a positive evolution of the band's sound. But others feel like incomplete bits thrown together for experimentation's sake. The end result is still very enjoyable alternative pop with some moments of electrifying beauty and genius. It's the album of band that is still building itself, and what's wrong with that?
Find out more about Casiokids on MySpace or check out their official site. You can also listen to Of Montreal's remix of "Det Haster!" on SoundCloud. To buy the new album, go to