MAXIMUM BALLOON – TIGER (Alternative/Electro/Nuwave – US)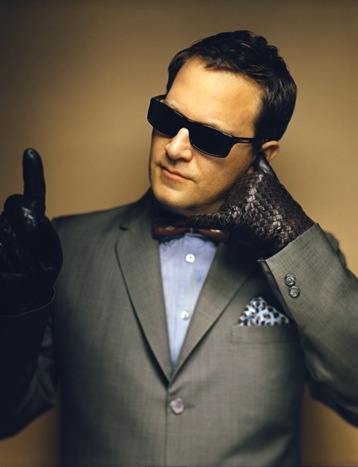 Maximum Balloon is the solo project of TV On The Radio's David Andrew Sitek. Multi-instrumentalist, songwriter, producer and sometimes beat-boxer, Sitek formed TOTR with Tunde Adebimpe in New York in 2001 and the pair were later joined by Kyp Malone, Jaleel Bunton and Gerard Smith. The five-piece got their triumphant breakthrough with their album Dear Science released in 2008 and named Album of the Year by the likes of Rolling Stone and Pitchwork.
Sitek is now introducing his solo debut: Maximum Balloon. But this debut is not strictly a solo album since it features songs coauthored with different singers that Sitek calls "his favourite voices in the world". Those singers include Karen O (front-woman of the Yeah Yeah Yeahs), stylish rap wordsmith Theophilus London, Katrina Ford (from the Baltimore-based band Celebration), New York-based Holly Miranda, legendary Talking Heads frontman David Byrne, Swedish electonic act Little Dragon and, of course, TV On The Radio bandmates Tunde Adebimpe and Kyp Malone. The ten songs featured on this album were created while working with TOTR and producing other artists' albums (Yeah Yeah Yeahs, Scarlett Johansson, Liars, The Oh Sees…). They are tunes that are more dancey than what one would expect from an indie rock figure like Sitek. Filtered through a prism of electronic and dance beats, this album is inflenced by the sound of 80s pop music and new wave.
Maximum Balloon - Groove Me (Alex Metric Remix)
If you like this sound, check out Maximum Ballon on MySpace for more tunes and buy the album on
httpv://www.youtube.com/watch?v=G06zb2yCTKY
Like it? Share it!