SNEAKY SOUND SYSTEM – REMIXES (Electro – Australia)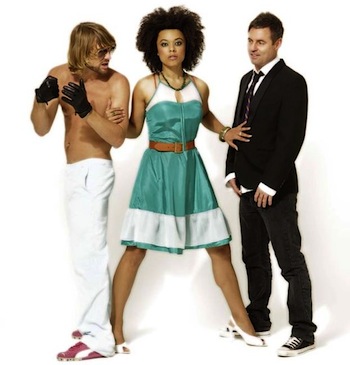 Sneaky Sound System is a Sydney-based dance act consisting of Black Angus (guitars and production) and Connie Mitchell (vocals). The original line-up included MC Double D but the band announced in September that he was split from SSS to pursue other interests. During live shows they are joined by Donnie Sloan (from internationally acclaimed OZ act Empire Of The Sun) on bass and keys and Shaun Sibbes on drums. The band cite Hot Chip and Cut Copy as the inspirations to their sound.
Sneaky Sound System - Pictures (Tonite Only Remix)
Their self-titled debut album, put together mainly in their Bondi Beach studio "The House of Whack", was a collection of high-kicking kitsch electro-pop numbers that had all media raving about them. The trio managed to replicate their debut's sweeping success with its follow-up, 2, which went straight to #1 in Australia upon its release. This record spawned more typically hook-filled, inventive singles: "When We Were Young", "16" (listen to it HERE) and "It's Not My Problem".
Sneaky Sound System - When We Were Young (Juan McLean Remix)
Sneaky Sound System - When We Were Young (Breakbot remix)
Angus and Connie are currently busy working on some new material. They have already started on the third Sneaky album and there may even be a taste of it before the end of 2010. In the meantime, here's a mean remix of "Kansas". It's pure Lifelike: glittery dance pop and its best. Enjoy!
Sneaky Sound System - Kansas City (Lifelike Remix)
Show Sneaky Sound System some love, visit their official site and MySpace. You can buy their music on