HERCULES & LOVE AFFAIR – BLUE SONGS (House/Disco/Funk – US)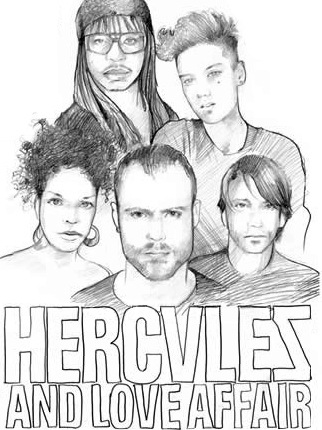 Best known for the disco-house classic "Blind", Hercules and Love Affair is the brainchild of songwriter/producer Andy Butler, who wanted to create a mutable ensemble which would evolve in time to incorporate different artists. So while H&LA's 2008 debut LP showcased the talents of vocalist Nomi Ruiz, singer/songwriter Antony Hegarty and DJ/vocalist Kim Ann Foxman, their new album Blue Songs features new recruits Shaun Wright and Venezuelan singer Aerea Negrot who now lead the vocals.
With this album, Butler and his mates keep pushing forward the message that "dance music is a very legitimate form of music" that's not limited to H&LA's usual four-to-the-flour pop-house bangers. Blue Songs, as its title suggests, looks into the melancholy side of dance music and  includes softer and stranger compositions.
Hercules & The Love Affair's fantastic new single "Painted Eyes" will be out in Europe April 18 on Moshi Moshi. To celebrate this release, they have covered "Shelter" (originally by The Xx), painting a distinctly different picture with the same brush. Kim Ann Foxman's vocals lift the track into a dimension of late night dance we all relish.
Hercules and Love Affair - Shelter (The Xx Cover)
Show Hercules and Love Affair some love on MySpace and buy all their music on Amazon or