saturday nite with… ZOWIE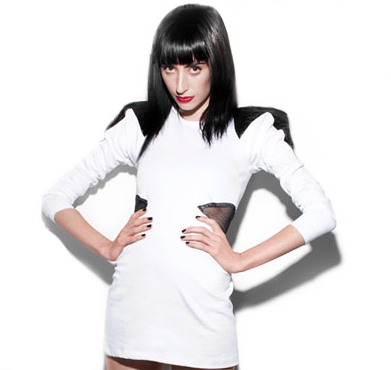 Coming on like a futuristic pop diva, all Pulp Fiction bangs and kaleidoscopic baton swinging, Zowie is determined to "destroy you with sound". With her infectious beats  and catchy tunes, she has already conquered the crowds of her native New Zealand and landed in the Top 5 in Australia with her debut single, "Broken Machine". All this at only 22 years of age!
Zowie - Broken Machine (Pete Wiggs Remix)
Zowie - Broken Machine (RAC Remix)
Compared by critics to Souxie Soux and Chrissie Hynde for her vocals, La Roux and Robyn for her vintage synthpop sound, Zowie is a bite-sized piece of pop perfection. Each of her tracks distill a bubbling mix of 80s synths, shimmering electro, playground chants and rock n roll swagger to create a sound all of her own.
After opening for The Kills and Peaches and playing a number of big New Zealand festivals,word on the internet is that Zowie is currently working on her debut album. The first taste of this yet-to-be-titled album is the addicitive new single "Bite Back". Unleashed to radios in December, it instantly became a hit in Australia. Here's a low-key disco remix by Seattle-based producer Codebase…
Zowie - Bite Back (Codebase Remix)
(Download exclusively
HERE
)
Tune in to the official site and MySpace for more Zowie news and purchase her music on