WHITEY – CANNED LAUGHTER (Indie/Electro/Alt – UK)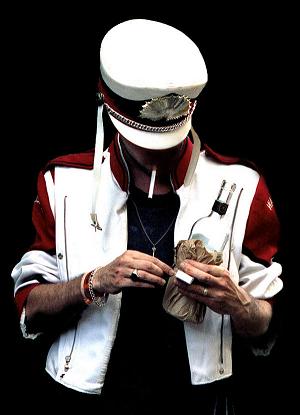 Whitey is an ongoing solo project by N.J Whitey, a totally self-taught artist who sings, programs, plays guitar, keys, bass and drums. This UK-born Berlin-based music genius defies genre boundaries with songs that swing wildly between styles.  Although still unsigned, he has released plenty of records under a variety of names and managed to break through to mainstream daytime radio in the U.S and elsewhere.
In 2004, he released The Light at the End of the Tunnel is a Train, which was greeted at the time as a critical triumph. His next album, Great Shakes, was leaked onto the internet and, as a consequence, never got an official release. Some time later the track "Stay on the Outside" was featured on Kitsuné Maison Compilation 4 and earned Whitey further praise but his third album, which was planned for 2008, was delayed and then never released.
Whitey - Stay On The Outside
Now the wait has been long but there's finally some good news! Whitey's brand new album, Canned Laughter, is out since April 1st 2010 and it's brilliant. Released with no record label support, no press agent, no advertising budget, it will have to rely on word-of-mouth, bloggers, radio stations and other media to spread to the masses..
Whitey - Count Those Freaks
If you appreciate good music and like this track, show your support and buy it on
Pay Whitey a visit on MySpace and vote for his tracks on Hype Machine!