SCHOOL OF SEVEN BELLS – ALPINISMS (Electronica/Indie/Psychodelica – US)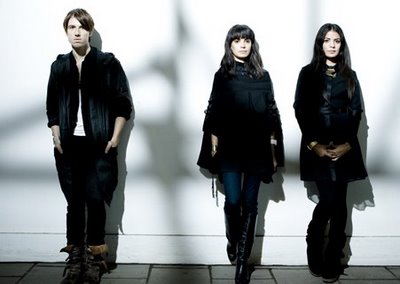 School of Seven Bells (often referred to as SVIIB) is a Brooklyn-based electro psychodelica band with a strong melodic sensibility which formed in 2007. The band consists of Benjamin Curtis (guitar) and twin sisters Alejandra Deheza (vocals, bass) and Claudia Deheza (vocals, keyboards).
The band is named after the School of the Seven Bells, a mythical South American pickpocket training academy. It was Alley's idea to name the band after this school. She had heard about it and the mythology grew in her mind. It meant a million different things to her and she also liked the phrase's musicality.
Their first single, "My Cabal", was released in May 2007 on UK label Sonic Cathedral. Then the Face to Face on High Places EP was released in September 2007 on Table of the Elements. School of Seven Bells' debut album, Alpinisms, was released by Ghostly International in October 2008. It is available as both a physical and digital release (iTunes).
School of Seven Bells - Half Asleep
Their sound has been described as dreamy and ethereal and the lyrics are impregnated with the theme of sleep and dreams. The trio's music uses elements of dream-pop, afrobeat, with a heavy base in electronica, but it easily transcends  usual genre restrictions. Alpinisms is full of tensions—Curtis' gentle guitars wrap around jagged beats; silky vocals hide behind grumpy, alien synthesizers—but the resulting songs are effortlessly cohesive, and insidiously catchy.
The band toured with Bat For Lashes on her UK tour and have more recently supported White Lies on their second headlining tour. Have a look at SVIIB's page on MySpace for updates and concerts…