JESSICA 6 – SEE THE LIGHT (Disco/Electro – US)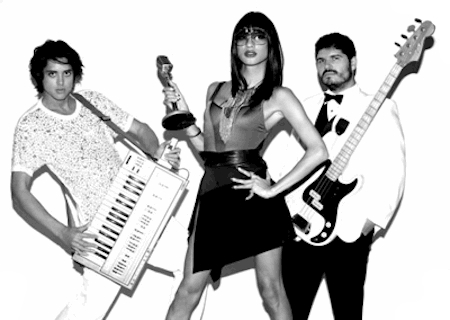 Brooklyn trio Jessica 6 are gearing up for the release of their long-awaited debut album, See The Light, which will drop on June 6 on London-based independent label Peacefrog (also home to indie folk singer-songwriter José González and Swedish electronica foursome Little Dragon).
In the run-up to this exciting release, Nomi Ruiz, Morgan Wiley and Andrew Raposo are unleashing two singles in two days. First up is "White Horse", released today May 1. It's a dark electro number, here remixed by 90s House music legend Todd Terry.
Jessica 6 - White Horse (Todd Terry Remix)
Next in line will be "Prisoner of Love". Scheduled for release tomorrow May 2, this silky smooth blippy love lament features guest vocals by Hercules & Love Affair mate and good friend Antony Hegarty. His and Nomi's voices weave around each other all the way into the song's grandiose climax.
Jessica 6 - Prisoner of Love (Ft. Antony Hegarty)
Both "White Horse" and "Prisoner of Love" can be ordered as 12″ vinyls on Peacefrog's online store. If you want to sample more music by Jessica 6 or see their tour schedule, check them out on MySpace. You can also buy more music on